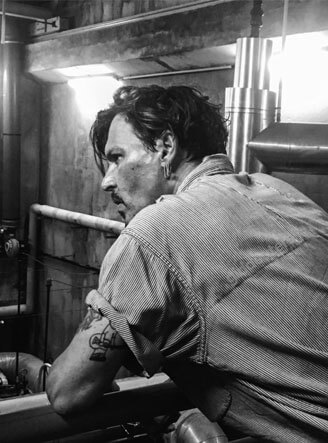 John Christopher Depp II is an iconic American actor, producer, musician and artist, with his films having amassed over $4.3 billion at the global box office. Depp began his career as a guitarist, taking him to Los Angeles. When his band split, Depp turned to acting and earned his first major gig in which he got swallowed up by a bed.
Throughout his career Johnny has amassed a multitude of commendations from across the world, including ten Golden Globe nominations, winning for Best Actor for his performance of the title role in 'Sweeney Todd: The Demon Barber of Fleet Street' (2008) and has been nominated for three Academy Awards for Best Actor: 'Pirates of the Caribbean: The Curse of the Black Pearl' (2003), 'Finding Neverland' (2004) and 'Sweeney Todd: The Demon Barber of Fleet Street' (2008). Most recently he was furnished with the prestigious Donostia award at the 69th San Sebastian Film Festival.
His other films include: 'A Nightmare On Elm Street' (1984), 'Platoon' (1986), 'Cry Baby' (1990), 'Edward Scissorhands' (1990), 'What's Eating Gilbert Grape' (1993), 'Ed Wood' (1994), 'Dead Man' (1995), 'Donnie Brasco' (1997), 'Fear & Loathing in Las Vegas' (1998), 'Sleepy Hollow' (1999), 'Chocolat' (2000), 'Before Night Falls' (2000), 'The Libertine' (2004), 'Charlie & The Chocolate Factory' (2004), 'Public Enemies' (2009), 'Rango' (2011), 'Black Mass' (2015), 'Murder on the Orient Express' (2017), 'Fantastic Beasts – The Crimes of Grindelwald' (2018), 'Waiting for the Barbarians' (2019) and 'Minamata' (2020).
He is nomadic, eats raw eel and thinks deep thoughts.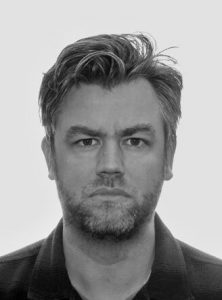 Stephen Deuters is the CEO of IN.2 Film.
Stephen has worked with Johnny Depp since 2004, featuring on more than twenty-five films, including 'Sweeney Todd - The Demon Barber of Fleet Street' (2008), 'Public Enemies' (2009), 'Rango' (2011), 'Black Mass' (2015), 'Waiting for the Barbarians' (2019) and the 'Pirates of the Caribbean' series.
Born in Amersham, England, Stephen studied film in New York. He has travelled extensively, having lived in both Japan and Australia. He began his life in the film industry with Warner Bros. at Pinewood Studios on Stanley Kubrick's 'Eyes Wide Shut' (1999).
In addition to his role as co-writer and executive producer on 'Minamata' (2020), the same year saw the release of 'Crock Of Gold - A Few Rounds With Shane MacGowan' (2020), directed by Julien Temple and co-produced by Deuters concerning the life and times of the beloved, infamous Irish punk/poet which won the Special Jury Prize at the 68th San Sebastián Film Festival.
Stephen lives in North London with his wife Gina and their cat, Frida.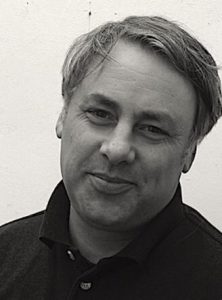 British film and event producer Stephen Malit is producer and head of production at IN.2 Film.
Producing credits include 'Hector' (2015), for which Peter Mullen won the BAFTA Scotland best actor award, 'Dan y Wenallt' (2016), the UK entry into the Best Foreign Language Oscar, starring Rhys Ifans and Charlotte Church and 'Crock of Gold - A Few Rounds With Shane MacGowan' (2020), winner of the jury prize at San Sebastian Film Festival.
The highlights of producing for director Julien Temple include the European Film Award nominee London: 'The Modern Babylon' (2012) for BBC Films / BFI and the CULT award winning feature 'Oil City Confidential' (2009). A collaboration with Mike Figgis resulted in 'Long Love Live' (2008), '3 Minute Wonders' a series of short art films for Channel 4 and 'The 4 Dreams of Miss X' (2007) starring Kate Moss.
He was the UK co-producer on the European animation feature 'A Fox's Tale' (2008) and production management clients include the Comic Strip, Big Talk Productions, Recorded Picture Company and Robert Fox Limited. Further line-producer credits include documentaries 'Imaginary Man' (2010), 'Glastopia' (2012), and 'Under The Wire' (2018).
Stephen continues to be on the management committees of both Glastonbury Festival of Performing Arts and the Fuji Rock Festival in Japan.
Vivi (Veronica Vanessa) Stone grew up in Milan, Italy and moved on her own at the age of sixteen to New York City to pursue her passion for film. She attended The New School where she spent four wonderfully demanding years that formed her knowledge of cinema and nurtured her passion for academia, proudly graduating with Double Honours in 2017.
Vivi supported herself by working as an on-set production assistant on various television shows and features 'The Blacklist' for NBC, 'Flesh and Bone' for Starz and 'The Intern' (2015), as well as an administrative office assistant at Parsons School of Fashion. She also worked as a writer for the Moviepass blog, as an editorial assistant for Film Comment of the Society of Lincoln Center and as the editor's assistant on the French film 'Cezanne et Moi' (2016). Most recently she interned at the production company Radical Media in their Design & Technology department.
As of 2019, Vivi moved back to Milan and worked as a reader of manuscripts for esteemed editors at Feltrinelli, Mauri Spagnol and Solferino, three Italian publishing houses. She was also the official translator for the 2021 edition of the Pordenone Silent Film Festival and juror for MAX3MIN, an online shorts film festival starting in 2019. Vivi's interests lie in literature, cinema, writing, transcribing and translating.
She is native in Italian and English and proficient in spoken and written French and Spanish.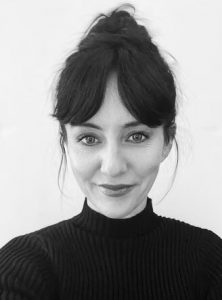 Digital Creator for multiple social media platforms, including Infinitum Nihil and Hood London. Also a consultant on content created for external projects including Never Fear Truth.
Prior to this Gina was a freelance Visual Effects Coordinator for fifteen years, credits include 'Harry Potter and The Chamber of Secrets' (2002), 'Troy' (2004), 'Charlie and the Chocolate Factory' (2005), 'The Dark Knight' (2008) and 'Pirates of the Caribbean: On Stranger Tides' (2011).
In 2016 she changed course to concentrate further on independent creative ventures.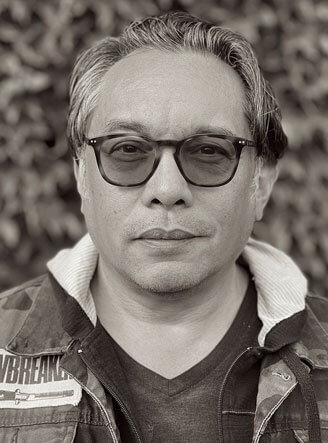 Sam Sarkar dropped out of Concordia University's film program in the middle of writing his first-year, film history exam. Through no fault of his own, he became an actor and worse yet, a writer.
Adding insult to injury, he became a board member of the performer's union and wound up as its president. He briefly came to his senses in the late 90s and worked as a sound-technician but that was short lived. A further descent into madness ensued and he became director of development for Infinitum Nihil emerging from development hell over a decade later as CEO of the company.
He has written two graphic novels and been a consultant for the US intelligence community in counter-terrorism and organizational restructuring. Most recently he produced 'Minamata' (2020) Infinitum Nihil's production of the story of the town that fought industrial mercury poisoning for many decades assisted by the journalistic work of W. Eugene Smith and his wife Aileen Mioko Smith.
He executive produced Doug Stanhope's comedy special 'No Place Like Home' (2016) and he was an executive producer on Infinitum Nihil's documentary 'Crock of Gold' (2020) about the life of legendary Irish musician Shane MacGowan.
He can be seen shirtless opposite Brad Pitt in Legend's of the Fall.